The long-awaited iPhone 12 series have been unveiled on the Apple Park campus in Cupertino. iPhone 12 lineup brought us tens of extraordinary features. With a fast-ever 5G network, powerful-ever A14 Bionic chip, and colorful-ever body appearance, iPhone provides more possibilities for mobile consumers. These new features may drive some of the existing Android users to defect to the iPhone camp. How to Migrate Data from Android Phone to New iPhone 12.
How to Migrate Data from Android Phone to New iPhone 12 – How to Transfer Data from Android Phone to iPhone
But after months or years of usage, our Android phone has stored a lot of precious data. Content like memorable photos, amusing videos, important messages is valuable to us. Before switching to the new iPhone, how can we migrate or transfer our Android data to the iOS platform? Let's find out.
Use Move to iOS App (Apple Official Solution)
Move to iOS is an Android application developed by Apple Inc. official, available on Google Play Store or other APK stores. With the help of Move to iOS, Android users can migrate their essential data to their new iPhone 12 in a few simple taps. After several set-up steps on your new iPhone 12 initial screens, tap "Move Data from Android" when it shows Apps & Data. Then open the Move to iOS app on your Android phone and enter the code showed on your iPhone.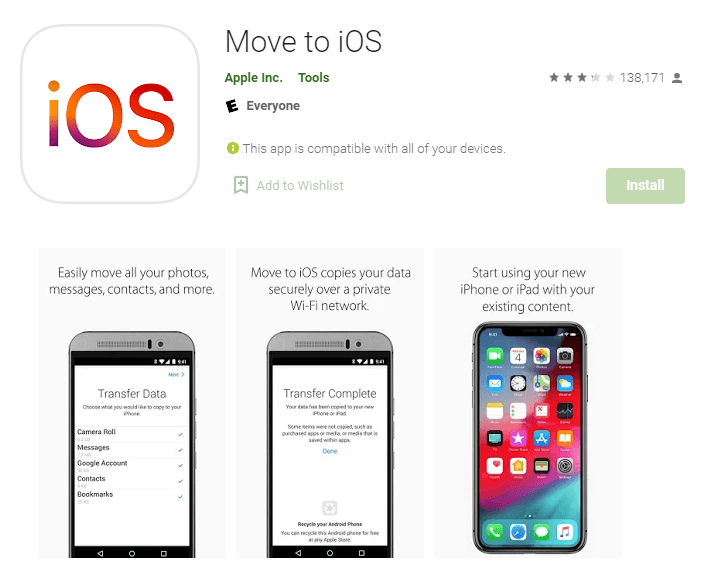 Pros:
Developed by Apple. As this application is officially made by Apple, it provides certain customer support for users. When you encounter some issues during the migration, you can contact Apple staff for help.
Cons:
Limited data type. Though the app is produced by Apple, it only supports certain types of data. Only contacts, message history, camera photos and videos, web bookmarks, mail accounts, calendar are available for migration from Android to iPhone.

Wi-Fi network is required. You must connect your Android Phone and iPhone 12 to the Wi-Fi network for transferring data. It may cost a lot of time if you have too much content on your phones or bad network speed.
Upload to Dropbox and Re-download
Cloud and digital transformation have changed the world for years. If you ever used a cloud drive service before, you must know of Dropbox, Google Drive, or iCloud Drive. These cloud-based storage services allow users to upload their data to remote servers without taking up local device space. So, while playing with your new iPhone 12, you can upload all your documents, videos, photos, or any other content you want to cloud. Then, you can install the cloud service app on your iPhone 12, log in to your account and then re-download your files.
Pros:
Support more data types. Cloud service comes with a wide range of data storage types. No matter your PDF documents, compressed files, or executable application or other common files are all available.
Cons:
Limited cloud storage space. Whatever cloud service you choose, the basic plan is only free with limited space. Dropbox Basic is only free of 2GB, GoogleDrive is free of 15GB, while both OneDrive and iCloud Drive is free of 5GB. You need to pay for the premium version to get more storage space.

Time-consuming. The most painful thing in the world is waiting. No matter uploading or re-downloading will cost us a lot of time, especially for gigabytes of data.
Sync Your Media via iTunes
iTunes would be a term familiar for Apple users. It plays a media center role in Apple's ecosystem. Before syncing, you need to install iTunes on your computer first. After connecting your Android phone to your PC or Mac, then select pictures, songs, or videos you want to your computer disk folder. The next step is to click the "File" option on your iTunes application and then click "Add Folder to Library". Following the prompt and there you go.
Pros:
Totally free. iTunes is also made by Apple and it's a completely free-to-use application for all users.
Cons:
Lacks of many data types. iTunes Sync only supports multi-media files, including music, movie, podcast, and audiobook.

Tedious operations. If you want to sync your media files with iTunes, you need to transfer your Android data computer first. Then you have to upload supported data to iTunes Library. And finally, sync it.
Migrate with AnyTrans in 1 Click
If the options on the above couldn't meet your demands, a third-party called AnyTrans would be an ideal solution for you. AnyTrans is a professional iPhone manager, used by millions of users around the world. Connect your Android phone and iPhone 12 to your computer first. All you need to do is, downloading the application on your computer, open it and click "Phone Switcher", and then click "Migrate Now" in the Phone to iPhone section.
Pros:
Support comprehensive data types. More than 30 types of data can be directly transferred from your Android phone to the iPhone. Books, notes, calendar, contacts, messages, photos, and even apps are accessible.

1-click to transfer all or selected data. You can migrate entire Android phone data to iPhone 12, and you can also select the data that matters to you to transfer.
Cons:
Need to pay for the premium version. If you want to transfer many more data or content, you'd better subscribe to a paid version.
Conclusion | How to Migrate Data from Android Phone to New iPhone 12
If you only want to transfer a few of the data to your iPhone 12, Move to iOS or iTunes may be potential options. Cloud storage services like Dropbox would be cost-effective if you are having a stable network. But if you want to transfer all kinds of your data or selected data easily, AnyTrans definite is a perfect choice. It won't erase your iPhone 12 existing data and only need a few simple clicks.