Work wear trousers are designed to provide protection and functionality, depending on the job role and the work environment. They can protect you from potential hazards such as sharp objects, extreme temperatures, and even chemical spills. They can also provide comfort, durability, and mobility, allowing you to move freely while performing your tasks. 
However, choosing the right work wear trousers for your job can be a daunting task. With so many options available in the market, it can be confusing to know which one to choose. In this article, we will discuss some of the key factors to consider when choosing work wear trousers.
Consider the Job Role
Different jobs have different requirements when it comes to work wear trousers. For instance, if you are a plumber, you need trousers that are durable and water-resistant, whereas if you work in an office, you may need trousers that are more formal and stylish. Therefore, it is important to consider your job role and the requirements of your job when choosing work wear trousers.
Consider the Material
The most common materials used are cotton, polyester, and nylon. Cotton trousers are comfortable to wear and breathable, making them ideal for indoor work environments. However, they are not very durable and may not provide adequate protection against sharp objects. Polyester trousers, on the other hand, are more durable and water-resistant, making them ideal for outdoor work environments. Nylon trousers are the most durable of the three, and they can protect you against sharp objects and extreme temperatures.
Consider the Fit
When it comes to combat work trousers, fit is key. You don't want to feel like you're trapped in a pair of trousers that are too tight or too loose, causing discomfort and restricting your movement. Opt for trousers that fit you comfortably and allow you to move around with ease. Whether you're climbing ladders, lifting heavy objects, or crouching down to complete a task, your work wear trousers should support your body and give you the flexibility you need to get the job done right.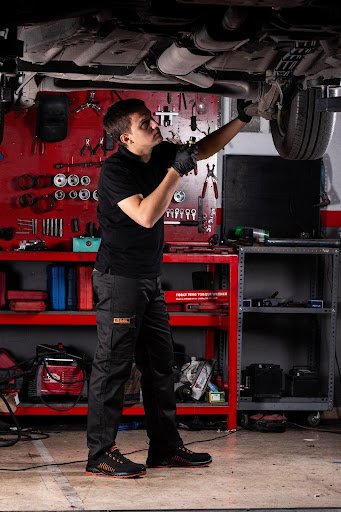 Consider the Pockets
The number and placement of pockets on your work wear trousers can make a big difference in how convenient they are to wear. Pockets provide a convenient place to store tools and other items that you may need while working. Therefore, it is important to choose trousers with enough pockets and in the right places. For instance, if you work in construction, you may want trousers with pockets on the thighs to keep your tools easily accessible.
Consider the Color
Color can play a significant role in selecting the perfect work wear trousers. It's important to choose a color that suits your job requirements and the working environment. While dark colors such as black or navy blue are popular for hiding dirt and stains, some industries require high-visibility colors to ensure you're visible to others. So, it's essential to pick the right color that not only meets your job requirements but also makes you look and feel good while working.
Consider the Waistline
The waistline of your work wear trousers is another important factor to consider. Some trousers have elasticated waistbands, while others have a button and zip closure. The waistline should be comfortable and secure, as you don't want your trousers falling down while you work. An adjustable waistband can be useful if you need to adjust the fit throughout the day.
Consider the Brand
When it comes to work wear trousers, choosing a reliable brand can make all the difference. A trusted brand will offer you high-quality trousers that are designed to last and can withstand the demands of your job. So, why settle for less when you can invest in a brand that specializes in work wear and knows what you need? With a reputable brand, you can rest assured that you are getting the best possible product that will not only provide the necessary protection but also ensure you look good while doing it.
The Bottom Line
Choosing the right work wear trousers for your job is important as they provide comfort, protection, and functionality. By considering these factors, you can choose work wear trousers that not only meet the requirements of your job but also provide you with comfort and durability.