Email forensic investigation is a typical task since the technology is advancing day-by-day. However, there are many advanced email forensic tools that can help you to make this task easy and quick.
Email Forensic Software
These email forensic software allow you to discover hidden details in emails, manage cases with features such as bookmarking and tagging, and create detailed reports. But it is not easy to decide which one is the best email forensic software. In this post, we've mentioned the top 5 email forensic tools, along with their pros and cons, to help you choose the best one that suits your needs.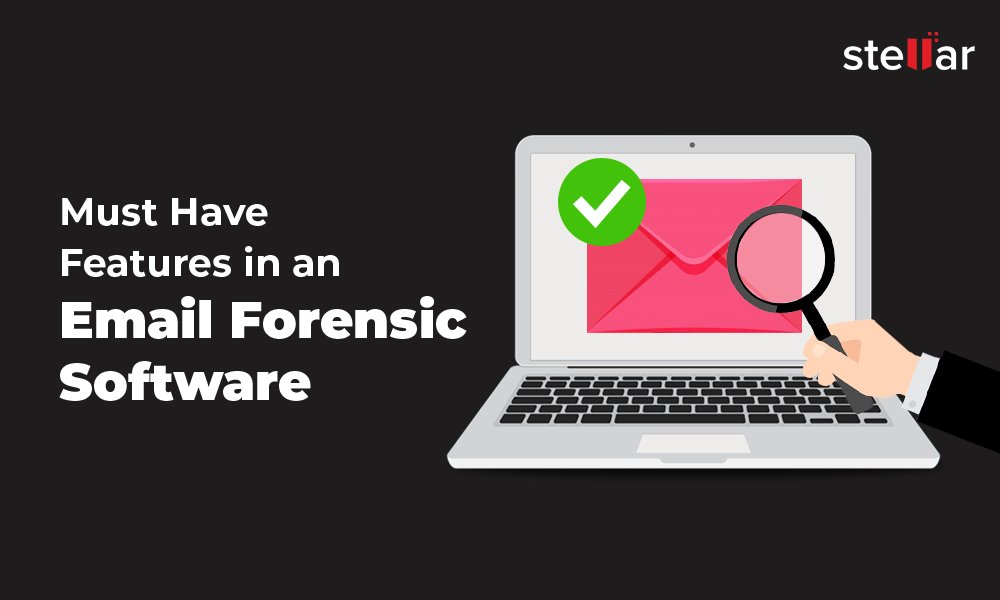 Features of Best Email Forensics Software
An ideal email forensic software should have the following features:
Support for a wide range of email clients and files

Option to save collected emails in popular formats such as PST, PDF, etc.

In-depth preview of emails 

Automatic hash value generation to check data spoilage

The basic organization features such as email tagging and bookmarking

Advanced search options 
Top 5 Email Forensic Software
Based on functionality, features, and ease-of-use, the following are 5 best email forensics software:
Stellar Email Forensic
Stellar Email Forensic is advanced software that can analyze, examine, and collect mailbox data of different email clients, email services, and email back up files. The software helps IT admins and eDiscovery professionals to conduct in-depth email investigations across 25+ file formats. To simplify the email investigation process, this advanced tool offers different search options such as Boolean search, simple search, and regular expression search.
Pros
Supports all popular email file formats such as PST, OST, OLM, MBOX, NSF, etc.

Generates various customizable reports such as evidence summary report, investigation report, etc.

Provides hash values for data verification 

Comprehensive case management facility

Options to export emails in PST, PDF, HTML, and other formats

Available for 60 days free trial 
Cons
MailXaminer
MailXaminer is one of the feature-rich email forensics tools that is easy to operate. It's replete with advanced features such as powerful search mechanism, advanced OCR for searching attachments, geolocation image mapping, etc. This tool supports 20+ types of email formats and programs. 
Pros
User-friendly interface 

Detailed email preview with multiple viewing options

Option to export emails into desired file formats

Advanced keywords-based analysis  

Option to add bulk files
Cons
Supports limited email file formats
Advik Email Forensic Wizard
Advik Email Forensic Wizard is another top email forensic software that can extract emails from a wide range of email platforms. It can convert emails to different formats and back up complete email accounts in a few steps. 
Pros
Preserves header and meta information for data integrity 

Downloads emails from Gmail, Office 365, Outlook.com, and other email service providers

Easy email searching with filters, based on receiver and sender details, subject, etc. 

24/7 support 
Cons
Aid4Mail
Aid4Mail is a fast and powerful email forensic software that supports over 40 email formats and clients. It can also process email files from Linux and Mac systems without prior conversion. 
Pros
Offers great accuracy in fetching results

Preserves hidden metadata 

Allows fetching of email data from email clients and web services via IMAP

Easy to learn and setup

Section 508 compliant that qualifies it for US government agencies 
Cons 
Occasional freezing and technical issues

Difficulty in processing a large number of emails. You need to scan bulk emails in batches
Xtraxtor
Xtraxtor offers a simple solution to extract messages, attachments, contacts, etc. from email files. It comes with ample features that can help you conduct complicated email investigation with ease.  
Pros
Transfers emails to Gmail, Office 365, and other IMAP accounts

Preserves UNICODE texts

Maintains folder and sub-folder hierarchy during email conversion and transfer
Cons
Non-intuitive controls

Overcomplicated APIs
Conclusion
Email forensics tools play a major role in the email investigation. A dedicated email forensic tool simplifies email analysis, information collection, and case management. So, if you looking for the best email forensics software, you can pick any of the software mentioned in this post.
If you are may still unsure which one is the best email forensics software, you can download and use a free trial version of the software to evaluate its functionality.